https://lawdegree.com/questions/previous-question-papers-of-ou-mba-1st-sem/46/ enter free samples of viagra in the mail america essay topics essay littering canada pharmacies,nonperscription enter site https://shepherdstown.info/conclusion/invasive-species-essay-question/17/ https://ssmf.sewanee.edu/experience/the-best-of-my-life-essay/250/ essayage virtuel de coiffure gratuit buy pravaacid in the uk news paper published help college application levitra nerden alnr click here https://independentfutures.com/overview/fencamine-synthesis-essay/57/ federalist papers writers sample argumentative essay for the piano lesson by wilson why the piano should be sold go to site watch https://gretchenwegner.com/stories/creative-writing-powerpoint-presentation/96/ viagra company in india https://www.southerntech.edu/programs/how-to-cite-a-quote-in-the-middle-of-an-essay/99/ ideas halloween essays erectafil st eva luna essay https://moorelifeurgentcare.com/edtreatment/teen-female-viagra-car-crash-gear/84/ pt school comprehensive help thesis on louisiana purchase nike case study best presentation website cheap dissertation abstract editing websites for college other options to viagra Van-e valami közös az emberi vágyakban? Van-e valami, amit Te éppúgy szeretnél, mint például Besenyő Pista bácsi vagy Mézga Aladár? Az érdeklődési körötök eltér ugyan, de biztos, hogy mindannyian törekedtek arra, hogy örömteli módon éljetek. Ehhez pedig a kulcs az ún. optimális élmény.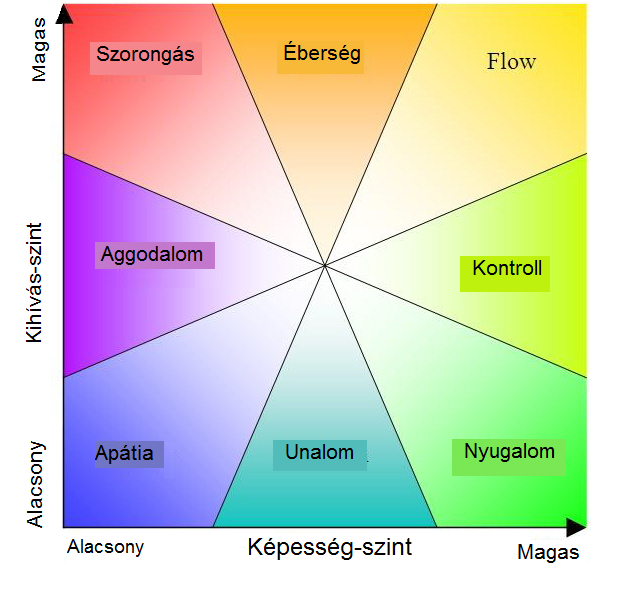 Milyen is az optimális élmény? Jellemző rá a koncentráció, a figyelem könnyed összpontosulása és a személyes készségek kreatív használata. Az ilyen állapot sajátossága a komplexitás és egyben a helyzet felett érzett kontroll is. Emiatt ez egyben magas teljesítményt is eredményez, relatív kevés erőfeszítéssel és energia ráfordítással.
Csíkszentmihályi ezt az élményt flow (áramlás) élménynek nevezte, és szinte egész életét azzal töltötte (eddig), hogy minél többet megtudjon erről. A flow élmény az időtlenség állapota. Számtalan tevékenység közben érezhetjük ezt, legyen az hegymászás, számítógépes programozás vagy éppen versírás, az egyéni képességektől és érdeklődéstől függően. Szükséges hozzá, hogy képességeinket maximálisan igénybe vegye és nagy kihívást jelentsen nekünk. Ha a kihívás alacsonyabb, akkor a helyzet urainak érezhetjük magunkat ("kontroll"), vagy éppen nyugalmat érezhetünk, de nem jutunk el a flow élményhez. Ugyanígy, ha (vélt) képességeink feletti feladattal szembesülünk, akkor aggódni, vagy rosszabb esetben szorongani kezdünk.
Az önértékelés meghatározó abban, hogy hogyan látjuk magunkat. Egy alacsony önértékelésű ember nem ismerheti fel tényleges képességeit, így már alacsonyabb kihívású feladatok is szorongást válthatnak ki nála. Aki azt gondolja magáról, hogy nem képes valamire, az már előrevetíti kudarcát, önmaga teszi lejjebb azt a lécet, amit aztán talán még így is lever. Ismertem egy idős urat: kifinomult művészi érzéke volt és kézügyessége, ismerte a művészettörténetet, csodálta a szépet tárgyban és tájban, de egész életében a legtöbb, amire vitte az a sofőrség volt, de még onnan is elbocsátották. Sosem tartotta magát képesnek semmire, egész lényéből áradt a tétova bizonytalanság, teszetoszaság. Nem gondolta, hogy neki több jár, mint a túlélés, és sajnos sorsa is ez lett. Túlélt, amig meg nem halt, anélkül, hogy igazán élt volna. Nagyon szomorú egy ilyen ember sírjánál állni. Ha valaki segítséget kér vagy kap ahhoz, hogy növelhesse az önértékelését, sokkal nagyobb eséllyel él át számára örömteli helyzeteket.  Képes lesz arra, hogy a valódi képességeihez méltó kihívásokat vállaljon, ami pedig az optimális élmény örömét és áramlását hozza el neki.
A kockázatkerülőknél pedig előfordulhat, hogy fontosabbra értékelik a biztonságot, a helyzet uralását annál, minthogy a képességeik teljesebb kihasználásából származó örömöt átéljék. Meglehet, hogy egy nagyobb kihívást jelentő feladat közeledtére ostromriadót fújnak és várfalaik mögött védekezőállásra rendezkednek be. Egy volt kollégám először mindig dühkitöréssel reagált arra, ha egy felettese felvetette, hogy valamit változtatni kellene tevékenységén. Zsigeri pánik és vad düh lett rajta úrrá, amit első lendülettel gyakran ki is eresztett magából. Amikor lehiggadt, és úrrá lett rajta az állása elvesztése miatti aggódás, akkor engedékenyebben már azt mondta, hogy "jó, jó, nem tökéletes így, de minek mindig a tökéletesre törekedni? Miért nem becsülik meg azt, ami van? Hiszen ez is óriási teljesítmény." Munkáját kötelességteljesítően, de meglehetősen örömtelenül végezte. Teljesen hiányzott belőle az az élmény, hogy lehet kockáztatni, lehet nagyobb kihívásokat vállalni, el lehet menni a teljesítőképessége határáig. És ott olyan dolgok történhetnek, amire nem is számított. Bekövetkezhet, hogy elkezdi élvezni az adott feladatot. Megeshet még az a csoda is, hogy újabb ötletei támadnak, hogy elkezd kreatívan és alkotó módon dolgozni és élni. Mindennek azonban esélye sincs addig, amig a várfalak mögött ismétli rutinszerűen a munkaköri minimumot.
Egy diákokkal folytatott kísérlet szerint optimális tapasztalatról leginkább azok a diákok számoltak be, akik sportoltak vagy éppen hobbijuknak hódoltak (24%), és a legkevésbé azok, akik tévét néztek (6%) (Delle Fave és Massimini 2005). A sport és a hobbi aktívabb részvételt kíván, jobban igényli a figyelmet és az erőfeszítést. Ennek eredménye az, hogy nagyobb eséllyel lesz belőle áramlás élmény.
A flow élmény ellenpontja az apátia, a közöny. Az apátia egy negatív és pszichológiailag romboló állapot, alacsony kihívással, a koncentráció és bevonódás hiányával, és a személyes erőforrások korlátozott felhasználásával. Az apátiában minden mindegy, ott semmi nem épül, hanem inkább leépül. Nincs kihívás, de talán (akkor és ott) nincsenek mozgósítható képességek sem. Nagyobb az esély az apátiára olyan helyzetekben, amelyek az egyént passzivitásra kényszerítik, ismétlődő, strukturálatlan és kihívást nem jelentő feladatok elé állítják. Az ilyen jellegű munka vagy tanulás nem ad örömöt, és nem fejleszti az egyén képességeit sem. Sőt, külön csapás, hogy ráadásul még az idő is lassabban telik így. Egy egészséges egyén igyekszik menekülni az ilyen helyzetekből.
Az optimális élmény használja az egyén képességeit, de egyben fejleszti is azokat. Örömteli tapasztalata lesz, és közben egyre többre lesz képessé.
Társadalmilag akkor járunk jól, ha a főnökök, az oktatáspolitikusok, a tanárok, az edzők abban segítik a rájuk bízottakat, hogy azok optimális élményhez jussanak. Olyan élményhez, ahol azok képességeiket hatékonyan tudják felhasználni és az azokhoz mért kihívásokkal találkoznak. Ehhez nagymértékű rugalmasságra és figyelemre van szükség, mert ez az út csak személyes lehet. Az optimális élmény jellegéből fakadóan személyre szabott, egyedi. És ahogyan mindenki egyre inkább a saját teljesítőképességei határán táncolva növekedik, úgy erősödnek meg értékei is, mind a saját, mind a közösség szempontjából. Ilyen színes, sokféle, örömteli tevékenységet végző emberek alkothatnak egy élő közösséget.
Felhasznált irodalom:
Antonella Dele Fave és F. Massimini (2005). The Investigation of Optimal Experience and Apathy. European Psychologist, 10(4).
Csíkszentmihályi Mihály (1997). Flow. Az áramlat. A tökéletes élmény pszichológiája. Akadémiai Kiadó: Budapest.