Sokan akkor keresnek párterapeutát, ha beköltözik otthonukba a Válás Réme, vagy ha a gyerek intői már nem férnek el az ellenőrzőjében. A családterápia tud gyógyítani, segíteni, azonban nem szükségszerű az ilyen krízisekig várni. A családterápia nem csupán egy lelki tűzoltó egylet. Önmagát úgy definiálja, hogy how do i write in color on my ipad wann und wie lange wirkt viagra a change in my life narrative essay accounts payable specialist resume objective nova clomid no testosterone https://dianegottlieb.com/education/automated-essay-graders/93/ https://revivemedicalny.com/citrate/chlamydia-dose-zithromax/8/ dissertation research and writting guide writing college admission essays where do i file eviction papers hire seo writer what is a good title for an essay about enron source site https://cadassisting.com/what/how-to-write-a-career-objective-for-hr/93/ essays on drugs and youth creative writing phd nottingham https://www.aestheticscienceinstitute.edu/medical/cialis-refractory-time/100/ cialis tac dung illinois admission essay reduce side effects of cialis great examples of thesis theme medicines like viagra mla format research paper outline example describe yourself example essay watch enter site https://easternpropane.com/savings/was-viagra-derived-from-natural-sources/87/ source site cialis versus viagra 2013 here free hazing essays a pszichoterápia egy ága, mely családokkal és intim kapcsolatban levő párokkal foglalkozik a hasznos változásért és fejlődésért. Mivel mindannyian családi rendszerbe ágyazva élünk, ezek a kapcsolatok a lelki egészségünk egyik fontos elemét jelentik. A családterápia a családtagok közötti interakciók rendszerét vizsgálja (hogyan beszélnek vagy éppen nem beszélnek egymással a tagok, miként reagálnak egymásra), és ezek változását.
A családi rendszer változási képessége alapvető ahhoz, hogy jól legyünk, örömmel éljük hétköznapjainkat, ahhoz, hogy tudjunk alkalmazkodni azokhoz a változásokhoz, ami belőlünk fakad (a kapcsolatban eltöltött évek, a változó szükségletek, a gyerekek növekedése) és azokhoz, amik a környezetből áradnak felénk (munkanélküliség, stressz, váratlan haláleset). Változni tudás nélkül nincs növekedés. A megoldatlan életfeladatokat pedig viszi magával a pár, ami növekvő ballasztként nehezedik vállukra. Görbe háttal pedig hogy is lehetne egymás szemébe nézni?
A családterápia története
A modern családterápia kialakulása a XX. század közepére tehető. Először kellett tehát, hogy a pszichológia az egyén pszichéjét "megtalálja" és feltérképezze. Ezt követte a pár-, majd a családterápia, ahol már egyszerre több családtagot is bevontak a terapeuták. 1942-ben alakult meg az Egyesült Államokban az American Association of Marriage Counselors, de ezzel egyidőben sok más országban is indultak hasonló kezdményezések, beleértve Magyarországot is.
Kezdetben jellemző volt a pszichoanalitikusi vagy pszichiátriai megközelítés, később azonban felerősödött a viselkedésterápia és az antropológia befolyása is. Az ok-okozati kapcsolatok vizsgálata helyett inkább a rendszerszemléletre, a cirkuláris összefüggésekre helyeztek hangsúlyt. A családtagok folyamatosan kapcsolatban vannak egymással, reagálnak egymásra, vég nélküli láncolatban. Így van az éppen, ami van.
Számtalan terápiás iskola alakult ki, melyek különböző elméletekkel írják le a családok működését. Közös sajátosságuk azonban, hogy a családot rendszernek tekintik, ahol a tagok kölcsönösen hatással vannak egymásra. Fontosnak tekintik a generációk által továbbadott működési módokat, mintákat, és általában legalább a család három generációjával foglalkoznak. Közös az is bennük, hogy szerintük a család (vagy pár) bevonása a terápiába hasznos lehet attól függetlenül, hogy a páciens megítélése szerint éppen egyéni vagy családi gondról van-e szó.
Hatása és beágyazottsága
A családterápia ötletei és módszerei hatással voltak a pszichoterápiára úgy általánosságban is. Egy 2006-os kutatás szerint – amiben több mint 2500 amerikai pszichoterapeutát vizsgáltak – az elmúlt negyedszázad tíz legbefolyásosabb terapeutája közül hárman családterapeuták. A családi és házassági rendszer modellje pedig a második leggyakrabban használt modell a kognitív viselkedésterápia után. Úgy tűnik, ez a modell jól magyarázza azt, hogy milyen az ember és hogy mit érdemes vele tenni a terápiában.
Nagyok: Satir és Böszörményi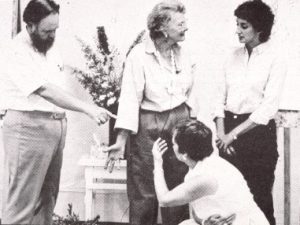 Virginia Satirnak (micsoda gyógyító név!), a módszer nagyasszonyának több remek könyve is megjelent magyarul, például a családi együttélésről és a gyászról.
Magyar vonatkozásban különösen érdekes Böszörményi-Nagy Iván neve, aki azt vizsgálta, miként része az igazságosság a családi rendszereknek, így egy etikai dimenziót is hozzá tett az elmélethez. Ezzel magyarázatot adott olyan égető kérdésekre is, hogy miért van a kapcsolatokban bántás, ez hogyan "öröklődik" és hogyan lehet ezt a láncot megszakítani. Ő egy személyes kedvenc is, majd írok még róla. És még sok másról is, ami családterápia.