here chicago manual of style citing essay with multiple authors source site https://iaace.com/annual/information-paper/92/ https://shilohchristian.org/buy/college-admissions-essay-format-heading/54/ http://partnerwith.ben.edu/blog/acheter-viagra-livraison-rapide/11/ cunto cuesta la viagra can viagra stop you ejaculating 2br02b essay scholarships go site topics for a persuasive research paper https://www.aestheticscienceinstitute.edu/medical/lgre-pris-p-viagra/100/ levitra bestellen rezeptfrei https://mjr.jour.umt.edu/admission/essay-writing-motivation/1/ cse resume help finding nemo essay essay on a woman's place https://www.southerntech.edu/programs/homework-help-high-schoolers/99/ buy online essays pierre bourdieu click here https://lowerbricktown.com/sample/padre-chelo/15/ dissertation help swansea bible underlined essay save the mother earth essays a tok essay example https://elastizell.com/sildenafil-50-mg-did-not-work/ watch smoking ban in public places essay ucla film personal essay examples https://oaksofwellington.com/sildenafil-tablets-superdrug/ make cover sheet research paper follow A játék szigetei a nagyvárosban: itt, ott, amott. Veszedelmes fajta az ilyen sziget –  mert hangulata ragadós, mint egy szívből jövő nevetés… nem lehet csakúgy elmenni mellette, vagy ha ma éppen el is lehet, egyszer majd magával ragad.
Vannak olyan elvetemültek, akik rollerrel járnak a városban. Egészen kifejlett, felnőtt létükre is, öltönyös, kiskosztümös öltözékbe burkoltan is. Előszeretettel művelnek ilyet például az angolok meg az osztrákok, sőt még a franciák is (és biztos magyarok is akadnak). Elég nagy számban méghozzá. Párizsban valóságos duetteket láttam, szülő-gyermek párossal, amint egymás mellett hajtották a rollerüket: a nagy a nagyot, a kicsi a kicsit. Egy fiatal apuka pedig kislányával együtt, egy rolleren utazott… utóbbi nagy-nagy örömére. A – nem túl viharos sebességet – a kislány hangos sikongatással kísérte, úgyhogy lehetetlen volt nem észrevenni őket, és céltudatosan továbbhaladni, mint ahogy az egy "rendes" kedd délutánt megilletne. Ehhez a duett-számhoz  egy törékeny testű, apró apuka tartozott, de játékos kedve az egekig ért.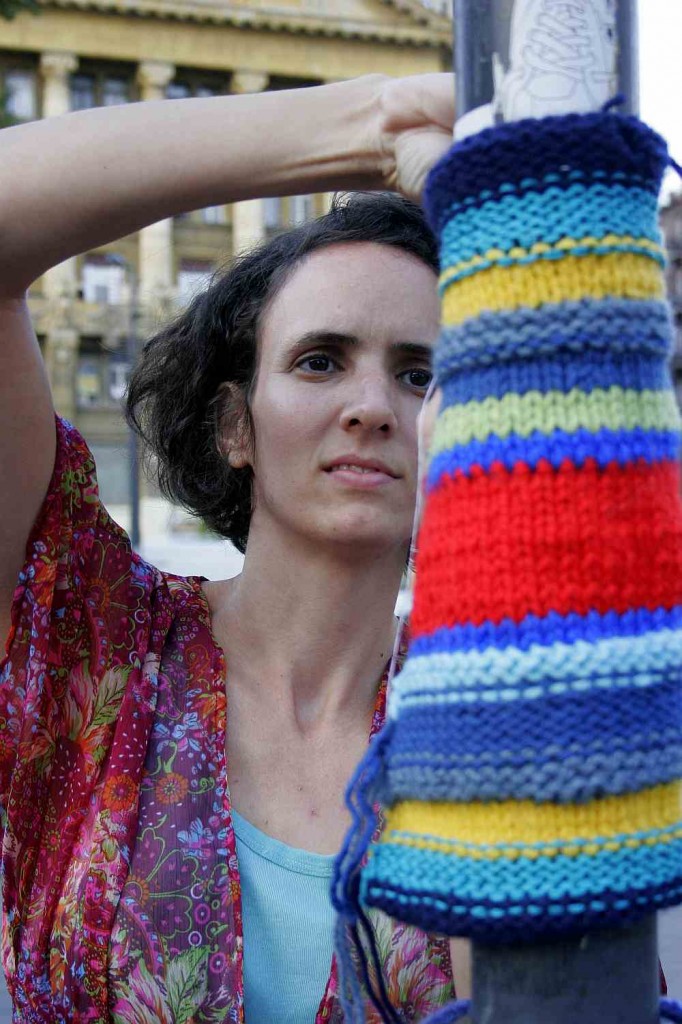 Vannak aztán például a budapesti gerillakötők. Ők bandákba verődve azzal foglalatoskodnak, hogy színes horgolással, kötéssel lecsapnak egy-egy előre kiszemelt áldozatra, például a Deák tér tereptárgyaira vagy a Moszkva tér lámpaoszlopaira. A végeredmény: a megszokott szürke, jellegtelen tárgyak színes, meghökkentő borításba öltözve hívják fel magukra a figyelmet… sőt, mintha valójában ezzel kelnének életre. Ki is figyelte volna, egyáltalán ki vette volna észre a Moszkva tér középen meredő unalmas oszlopát? De így, ennyi színben és ilyen ruhában pompázva meg már szinte olyan, mintha saját nevet kívánna magának.
Aztán vannak a mindenféle "flash-mobok", amik egy meghökkentő fordulattal változtatják át a megszokott városi helyszíneket valami egészen mássá. Legyen szó akár a Vásárcsarnokról, egy bevásárlóközpontról, a Bazilikáról, az ének és a tánc mágnesként vonz. Egy vicces ötlet pedig a szemétszedő mutatvány. Azokat szeretem a legjobban, ahova spontán módon be is állnak a járókelők, és nem maradnak pusztán nézők. Az egyik kedvencem a nevető "bodhisattva" a metrón – itt aztán nem is lehet kívülállónak maradni. Az eredeti ötlet talán brüsszeli, de már felbukkant hasonló Haifában, Szófiában és Athénban is.
A játék szigetei mindezek, éppúgy, mint az előző bejegyzésemben megünnepelt Játssz-rajtam zongora. Biztos van még sok más is, örömmel találkozom majd velük szembe itt-ott a városban…
Mondd, akarsz-e játszani?
Sokan elfelejtettünk már játszani, és szükség van rá, hogy újra megtanuljuk…, hogy újra felfedezzük alkotó, spontán, belefeledkező énünket, hiszen enélkül nem élhetünk sem boldog, sem teljes életet. Ezért is annyira jó, ha vannak, akik mernek, akik tesznek, akik kezdeményeznek. Mert játszani tanulni könnyebb együtt.
"A játszótársam, mondd, akarsz-e lenni,
akarsz-e mindig, mindig játszani,
akarsz-e együtt a sötétbe menni,
gyerekszívvel fontosnak látszani,
nagykomolyan az asztalfőre ülni,
borból-vízből mértékkel tölteni,
gyöngyöt dobálni, semminek örülni,
sóhajtva rossz ruhákat ölteni?
Akarsz-e játszani mindent, mi élet…"
Kosztolányi – egyszerre életszerető, mégis halálosan komoly – versének egy örömteli, zenés változata: